Mountain PolyBar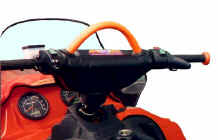 Mountain Polybars give added control when sidehilling, boondocking or just playing in powder. Also, adds a splash of color to your sled for a customized look. Polybars are made of a poly-urethane body with aircraft grade aluminum mounts. They will remain flexible down to -60 F allowing the bar to give, in case you find yourself over the handlebars; and yet the urethane is strong enough to withstand the rigors of snowmobiling. For the weight-conscious sledhead, Polybars weigh only 10 ounces and give multiple grip positioning possibilities.

Installation: Mountain Polybars give the snowmobiler a high quality sidehill bar that will bolt on to a stock handlebar with very little modification needed. Polybars fit all modern sleds and many older model snowmobiles. They come in standard and long lengths and in 8 colors. For a professional installation on newer Arctic Cat sleds, try our Grommets.
Part No#
Description
Colour
93-600
STD 12" POLY BAR
BLACK
93-600L
LONG 14" POLY BAR
BLACK
93-602
STD 12"POLY BAR
BLUE
93-602L
LONG 14"POLY BAR
BLUE
93-604
STD 12" POLY BAR
RED
93-604L
LONG 14" POLY BAR
RED
93-606
STD 12" POLY BAR
GREEN
93-606L
LONG 14" POLY BAR
GREEN
93-608
STD 12" POLY BAR
PURPLE
93-608L
LONG 14" POLY BAR
PURPLE
93-612
STD 12" POLY BAR
YELLOW
93-612L
LONG 14" POLY BAR
YELLOW
93-616
STD 12" POLY BAR
ORANGE
93-616L
LONG 14" POLY BAR
ORANGE
93-500A
A-STYLE MOUNTING BRACKET
93-500B
B-STYLE MOUNTING BRACKET
93-500C
C-STYLE MOUNTING BRACKET
Mounting Options

There are 2 mounting options for the PolyBars. The bars themselves come in standard and extra long lengths. Either bar can be mounted using either the A or B style brackets, depending upon the type of your handlebars.
To select the right PolyBar and Brackets for your sled, see the PolyBar Application Chart below.
A-Style Brackets
B-Style Brackets
Snow West Distribiting Inc.
4291-95 St.
Edmonton, AB. T6E 5R6
Telephone: (780) 436-8888
e-mail: sales@snowwest.ca

You May Also Visit Us At www.snowwest.ca

Snow West Distributing Inc.
Copyright © 1998-2003
All rights reserved.
All Pictures Used
for Reference only.