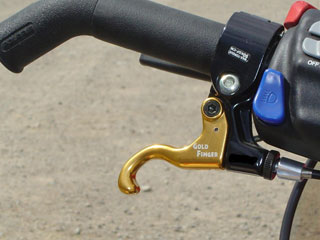 Left Hand Throttles• Quality adapter and fasteners constructed of highest quality stainless steel.
• Gold anodized aluminum throttle lever can be operated with one finger for safer side hilling.
• Safety features include rubber accordion boot (keeps snow out of cable housing) and safety pin (locks left throttle from use while trail riding, etc.)
• Throttle does not interfere with hand warmers.
• Kit includes all hardware, allen wrenches and instructions for installation in approximately 20 min.
• Applications for most models.
• Allows for hill climbing without reaching for throttle.
• Helps relieve tired thumb.
Arctic Cat- Pt #67-1021
Polaris- Pt #67-1022
Ski Doo- Pt # 67-1027
Yamaha- Pt # 67-1026
HOT POT The HOT POT™ is a stainless steel cook-pot for warming hotdogs, burritos or chili. Each kit comes complete with an aluminum heat transfer base and all mounting hardware for easy installation on any snowmobile.